3 November, 2016
Mayu Studio for Kilns  in the Open Studio.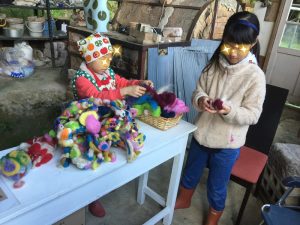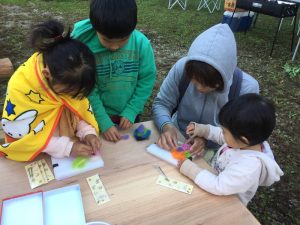 「六甲からはじめる」
私が生まれ育った神戸の街は1995年大きな震災に見舞われました。阪神淡路大震災です。
そして2011年にもまた日本は東日本大震災という震災に見舞われました。
1年が経ち、私は作品とは別に、私の地元六甲山の羊の毛から、人と人をウールをツールにつなぐワークショッププロジェクトを始めます。
たくさんの方々にウール専用ニードルを用いてフェルトの大きなかたまりへと育ててもらう。人の行為、痕跡が人の思いの視覚化となって人の心へ届くことを願います。
2012年3月 植田麻由
Workshop "Start from Rokko"
I was born and grew up, and live in Kobe.
Kobe is very close to the mountain and the sea.
I live at the foot of Mt. Rokko .
Kobe is a beautiful city, but there was a big earthquake in 1995.
Then, there was the Great East Japan Earthquake in Japan in 2011.
So I will be start my volunteer project using the wool.   this is a separate project from my work.
I use wool as a tool to connect a person and a person together.
I value place.
So I begin this project from the wool of the Mt. Rokko farm of Kobe where I was born.
March,2012   Mayu Ueda